Presentation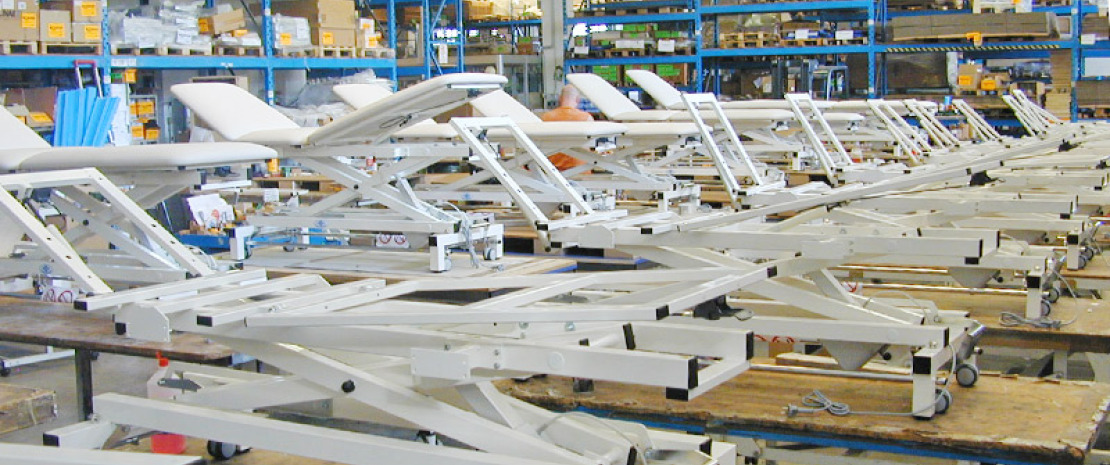 Presentation
With an experience spanning over several decades, Chinesport offers a range of height-adjustable treatment tables for various uses and with different structural characteristics. Our offering covers various options including tables for examination, transfer, physical therapy, manipulation, specific treatment and massage. Professionals and practitioners all over the world appreciate their long lasting reliability. The frame is always sturdy, stable, with all rotary joints such as levers and hinges running on self-lubricating bushings, preventing thus wearing and squeaking while in function. They can be set up according to several options and they can also be fitted with many specific accessories.

Examination and treatment tables consisting mainly of two sections, with a 68 cm-long head section that can be used as a backrest. The backrest can have positive and negative tilt adjustment by gas spring. Some models are also available with larger wheels and safety siderails to be used for patient transport or as changing table.
USE DESTINATION: examination, patient transport, massage, treatments.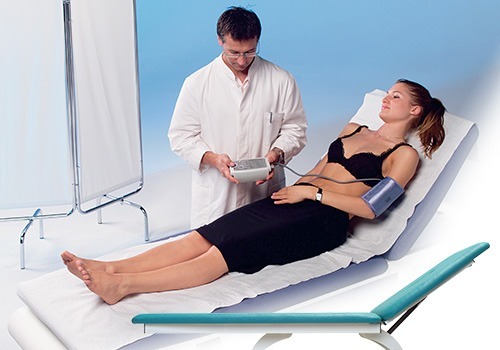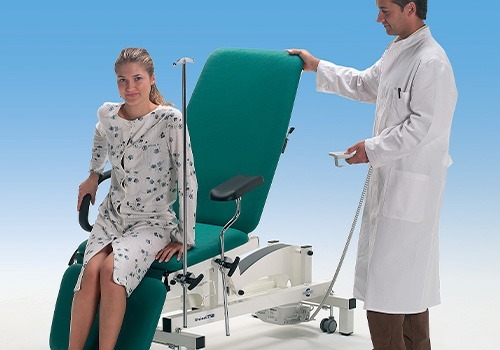 Multi-functional three sections tables for examination and specific treatments. In some versions, the seating section is tilt-adjustable via another motor. As a result, these tables can easily change into a seated, relaxation, Trendelenburg and anti-Trendelenburg position even with the patient lying on the table.
USE DESTINATION: examination, patient transport, podology, gynecology, urology, cardiology, geriatrics, blood donation, phelobotomy, treatments.


Distinguishing feature in these tables is that during height adjustment the individual sections remain completely motionless. This makes them particularly suitable for smaller environments or to make the best use of available space, as well as to maintain the position chosen for exercises once the pulley therapy system has been set up.
USE DESTINATION: physical therapy, pulley therapy, manipulations.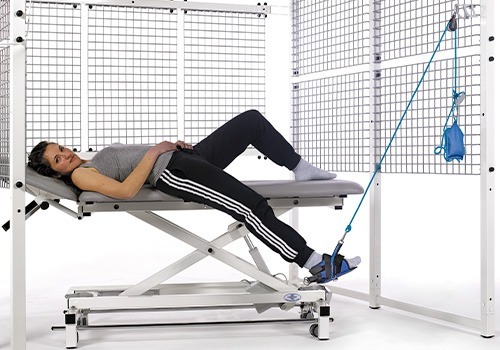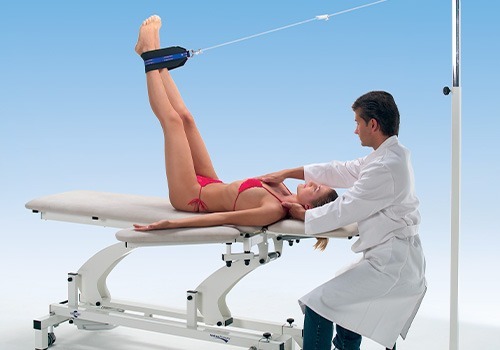 These tables were developed for physiotherapy, osteopathy and other specific treatment methods. The head section length is 52 cm and it can be fitted with armrests to provide greater comfort. They allow different postural positions and an extended use in gynecology is foreseen for one model.
USE DESTINATION: physical therapy, osteopathy, postural exercises, treatments, manipulations.


Our Sinthesi couches allow therapists to effortlessly place patients in countless myofascial stretching postures that can be easily maintained for longer periods of time and without strain. Various techniques can be applied to facilitate recovery in myofascial elongation, increase joint movement range and achieve an antalgic posture as a relief from acute pain.
USE DESTINATION: physical therapy, postural exercises, pulley therapy, myofascial stretching and mobilizations, treatments, manipulations.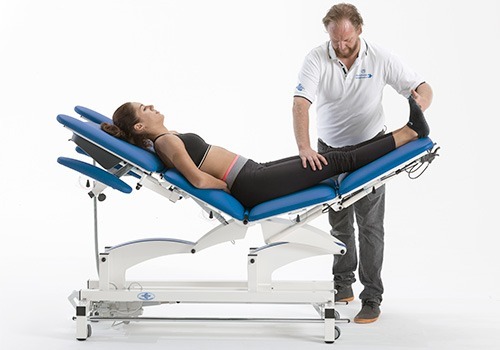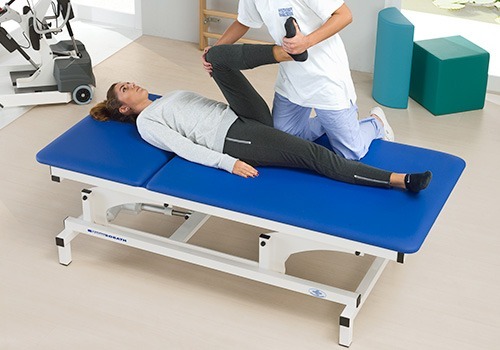 These are large physical therapy tables with a surface area up to four square meters. The patients can be guided through a wide range of exercises and sensory experiences, as well as postural adjustments. A special version also allows static supine exercises without having to move the patient.
USE DESTINATION: neurology, sensory exercises, massage, treatments, manipulations.


With this range, Chinesport is branching out into beauty, spa and massage tables with some specific optional features such as sections heated at two different temperatures and led lights for combining chromotherapy effects. These tables can also achieve the Trendelenburg and anti-Trendelenburg position via a dual telescopic column system.
USE DESTINATION: examination, aesthetics, massage, treatments, manipulations.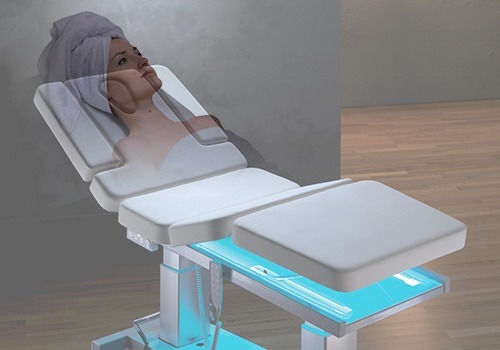 Highlights
Highlights
Padding thickness and density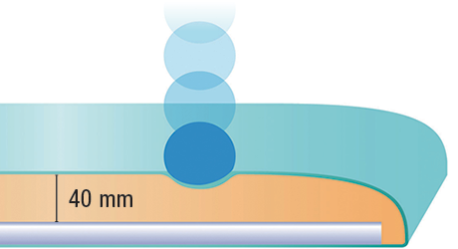 The standard padding thickness is of 40 mm with 30 kg/m3 density. Our Upholstery Department is also able to deal with particular non-standard requests. In such cases, an additional charge may be applied.
Panel stability
Panels are secured to the frame by means of bushings. If required, these bushings can also be easily replaced when the padded section wears out or is damaged.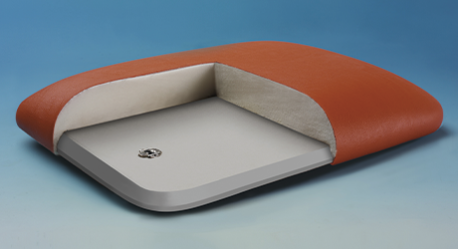 Adjustment of the padded sections: a quality choice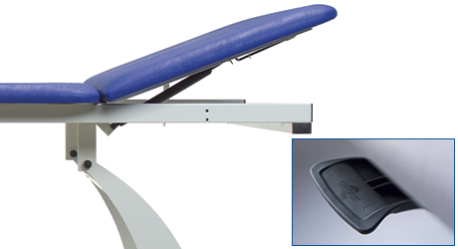 All the padded sections of our professional tables are adjustable by an ergonomic hand control which activates one or more gas springs. This control handle is an original Chinesport design element as a result of our constant wish to care about details.The adjustment of the sections by a gas spring is continuous, constant and silent. The selected gas spring representes another quality choice which has turned out very reliable in time.
A patented design
The two half-moon levers of Chinesport height adjustable tables represent an original and protected design in EU.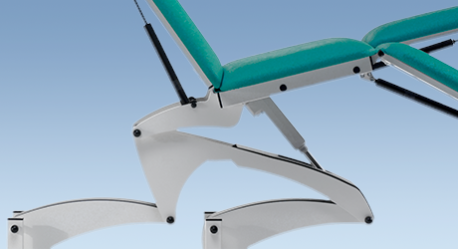 Product customization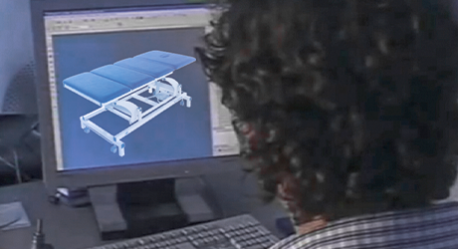 It is also worth remembering that our Research & Development department is continually developing new options and accessories to achieve table configurations that increasingly meet the professionals' individual requirements.
Video
2.0 GPS Pathways for Rehabilitation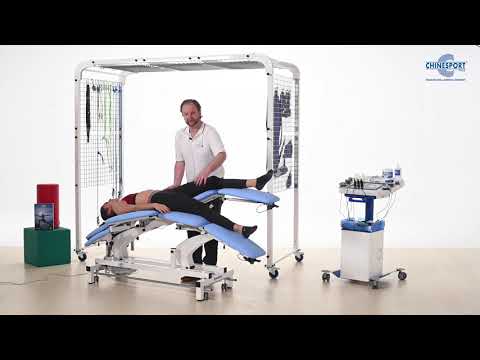 2.0 GPS Pathways for Rehabilitation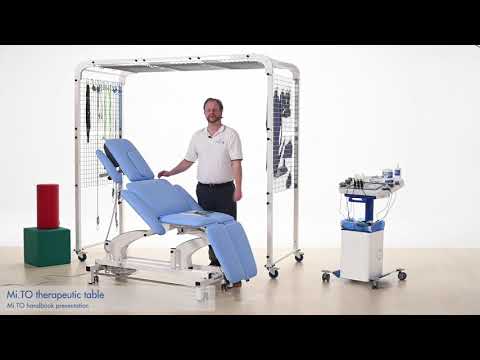 2.1 Mi.TO Therapeutic Table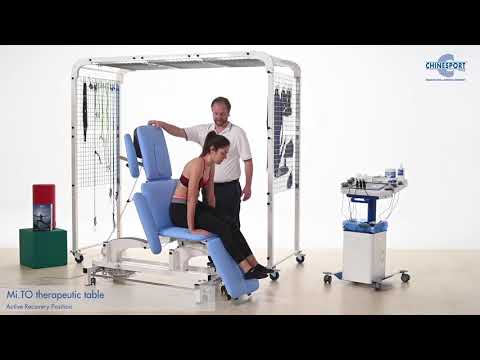 2.2 Active Recovery Position
More information required ?