Tilt Tables
Within a motor, strength and balance re-education programme, these tilt tables help to gradually reach an erect posture from a static prone or supine position when patients are unable to load their own body weight on their lower limbs.
The tilt adjustment can be either servo-assisted by gas springs, or electrical through wall power supply or battery-operated. Some models also provide for the table to be height-adjusted, should it need to be used for physical therapy sessions.

Available motors for lift & tilt allow safe working loads of 180 kg.
Therapeutic indications
"Serious motor disabilities that require reaching or maintaining a standing position, for a certain period of time during the day"
Research carried out by the Institute for Treatment and Research "S. Maria Nascente" of the "Don Carlo Gnocchi Onlus" foundation - Milan 2004

Product code meaning
The product code for Chinesport static tables depends on the configuration of the various options available. Each position in the code has a specific meaning, and corresponds to one or more characteristics of the product.
Soon we propose introducing what is termed an "open code" with a number of options to be chosen freely, as already offered for our examination and therapy couches, or our shower stretchers.

Specifically, a model with gas spring servo-assisted tilt adjustment can be chosen, or an electrical system powered by mains power or a rechargeable battery. Electrical height adjustment is also provided for some models of the table, if you also want alternative use for physical therapy sessions. The drives offered for tipping the table upright, provide for safe working loads of 180 kg. Some icons are shown for each model presented, for easier identification of the properties described.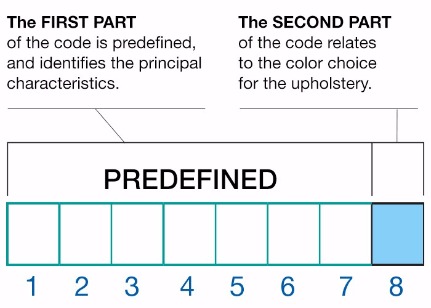 POSITION

VARIABLE CODE MEANING

VALUES AVAILABLE

1-2

SET VALUES

3

TYPE OF ADJUSTMENT

1 - no height adjustment

2 - electrical height adjustment

3 - gas spring tilt adjustment

4

TYPE OF POWER SUPPLY

E - mains power supply

B - rechargeable battery power supply

G - no electrical supply

5

WORKING LOAD

1 - up to 140 kg

2 - up to 180 kg

6

NUMBER OF SECTIONS

1 - 3 sections, without head section for static supine position

2 - 4 sections, with head section for static supine position

3 - 1 section, for static supine position

4 - 4 sections, for static supine position

7

TYPE OF IMITATION LEATHER

W - GIOTTO collection, rounded edges

X - GIOTTO collection, edges with band

8

COLOUR

24 colours available