Series of swivel stools with five swivel wheels and 60 cm diameter base. Height is adjusted by means of a gas spring mechanism and lever. Models come with two different height adjustment mechanisms. Our stools are manufactured using materials that ensure excellent seat stability over time.
Bushings are also used to attach the seat to the frame, which allows for parts to be easily replaced when worn out or if the padding gets damaged, or even if you just want a new upholstery color. A wide choice of upholstery colors is available. 3-year guarantee.
Giotto is the flame retardant fabric made for residential and contract upholstery. Its resistant structure and the easy cleaning make Giotto particularly suitable for hospitals, nursing homes, spas, rehabilitation centers and gyms. Giotto has a leather-effect surface with a brilliant finishing, in 24 colours all available on stock.

Giotto contains Vinyzene, an anti-microbial agent added in the first steps of production process. This creates a defensive barrier against mites, bacteria and fungus, avoiding smells and allergies.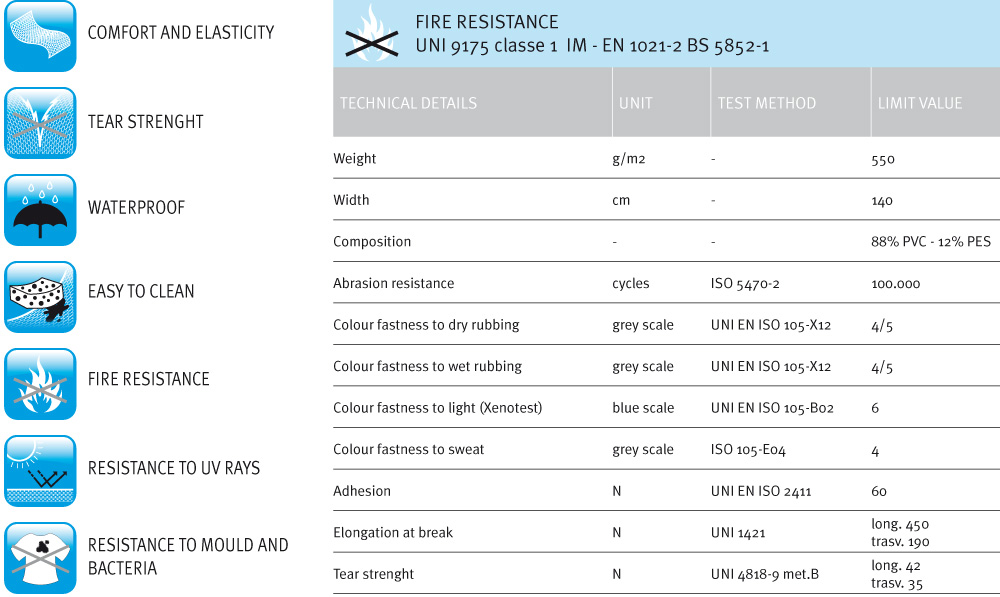 WASHING — Dust gently and in case of light stains pass the surface with a damp cloth or a neutral detergent, rinse with water without squeezing. Let the fabric dry inside out avoiding direct exposure to the sunlight. Iron to the reverse at low temperature. The following instructions are recommended for small located and more obstinate stains (oil, fat, cosmetics, ink, coffee, liquor, chewing-gum etc.): dissolve immediately with clear ethylic alcohol diluted in water to 20%, dab and then treat with a neutral detergent solution. Rinse abundantly.
GENERAL WARNINGS — To avoid permanent stains, the lighter colours of the article should not be brought into contact with textiles and clothing coloured with unfixed dyes. We cannot guarantee the ability to remove unknown dyes from light coloured product.