The applied magnetic fields used in medicine are either low frequency or very low frequency fields (0-100 Hz) with variable intensities of between 5 and 100 gauss (ELF = extremely low frequency).
These are "variable" magnetic fields, that is to say, they are produced by inputting a variable current into the circuit (the solenoid), which can be modified to generate different types of waveforms and therefore create different types of magnetic fields. The most important phenomenon evident in biological tissue exposed to a pulsated magnetic field is the contextual rise of induced micro-currents.
But how do these micro-currents interact with the body? An injurious event, a trauma for example, determines a de-polarization of these proteinaceous structures with a reduction in the transmembraneous electric potential of the cell. The micro-currents induced by magneto-therapy re-polarize the biopolymers and therefore re-establish the correct electric potential, accelerate ionic movements, reactivate enzymatic kinetics and, in short, reintegrate the tissular function.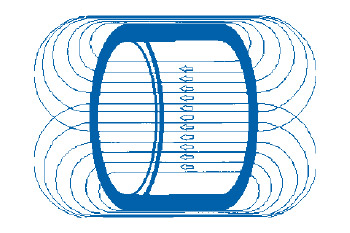 Magnetic Field Concentrator is an exclusively patented innovation who drastically reduces the electromagnetic contamination generated by solenoids for magnetic therapy – an appreciable improvement in both quality and safety in the workplace.
The instrumental measurements showed that using the MFC patent the electromagnetic pollution of the surranding space is reduced by more than 85%.