IMPORTANT FOR ANYONE CONCERNED
Several individuals living in various Italian regions have used or are using the R.I.C. method at direct expense of their Local Health Authority with or without legal action.
"...You can say that the services relating to the R.I.C. rehabilitation method fall totally within those specified by the Essential Levels of Care (1) nationally and for the Tuscany Region... and that therefore such services can be considered appropriate. …"
"I also confirm that the Essential Levels of Care only specify the healthcare services on a separate basis and without determining the duration of the care. Therefore, the L.E.A. tables will never specify techniques or methods that cover the set of services that make up a therapy protocol, with particular and specific times and modes of execution that vary depending on the pathology to be treated, as these can only be assessed by each doctor based on their expertise and experience. Excerpt from: Medical-legal considerations - Ruling from the Courts of Florence N. 254 - 16.02.05.
Note (1) - The Essential Levels of Care (Italian: Livelli Essenziali di Assistenza - L.E.A..) are the services and assistance that the National Health Service (Servizio Sanitario Nazionale - S.S.N.) has to provide for the citizens either for free or against a co-payment fee (so-called ticket), using the public funding raised with general taxation.
EXERCISES
R.I.C. Exercises: they originate from the global and sequential observation of the key functions performed by a healthy individual, as they go from a lying or sitting position to standing (walking) and return to the starting position.
Each movement is analytically subdivided into various exercises; these exercises have been grouped into muscle regions and split into training days.
About 150 exercises have been studied and developed. Each exercise can have several variations and be performed in different postures (lying supine or prone, sitting or upright, etc.), and can be aimed at muscle recuperation/strengthening, coordination, balance or reaching more objectives at the same time.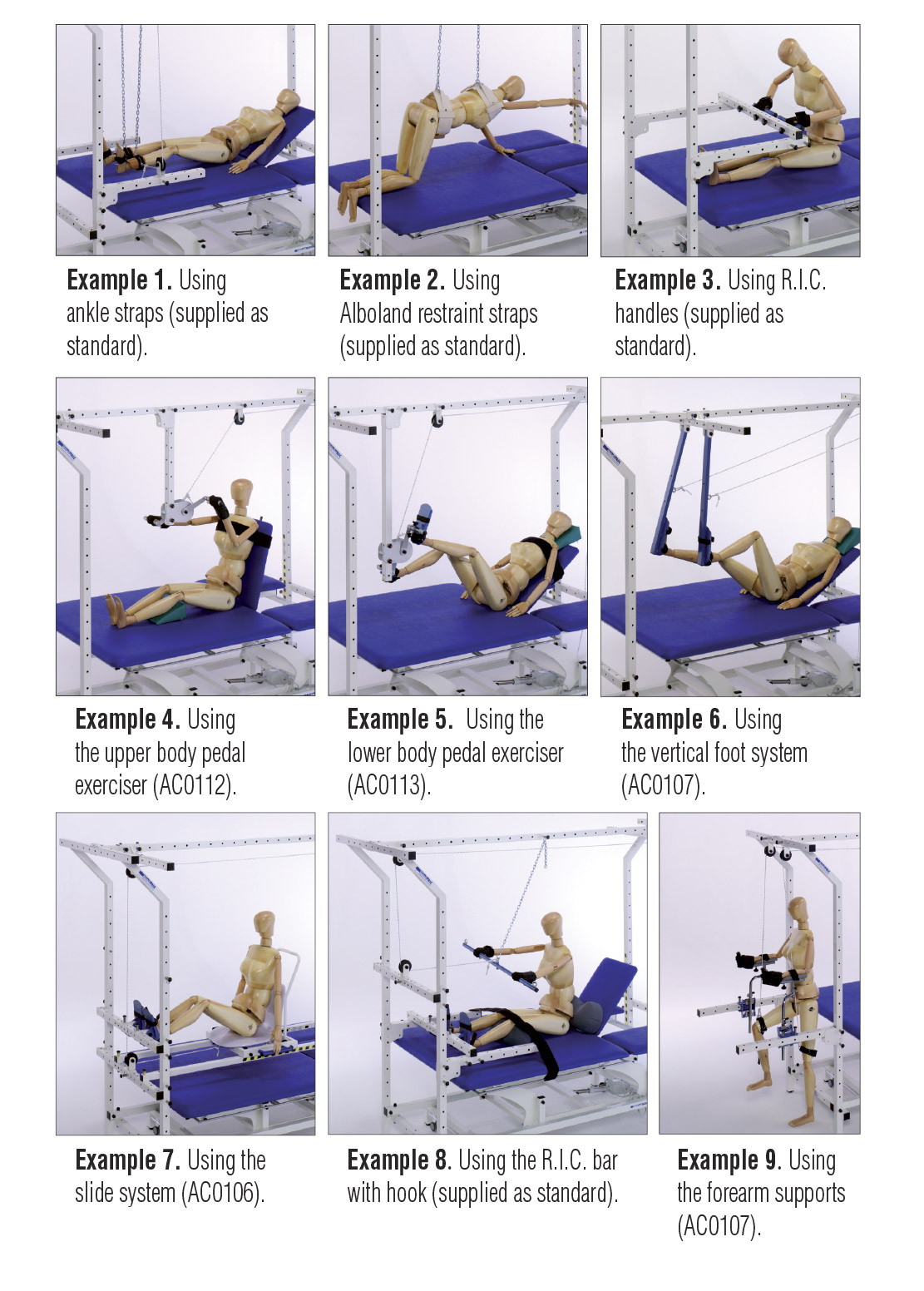 RESULTS ACHIEVED
The results achieved are very encouraging and, in summary, we can say that:
All patients showed a marked improvement in the international assessment scales (A.S.I.A., F.IM., W.I.S.C.I., Ashworth …);
About 95% of the paraplegics and 65% of the tetraplegics have resumed an initial therapeutic gait with small splints under the knee, tripod canes or walking frames and aided by the therapist. For many patients, the resumed gait function can be defined as therapeutic, but, in some cases, it can also become functional when necessary;
All patients have recovered some independence in movement and personal care by increasing their functional capabilities depending on their impairment;
Some patients have resumed some motor and sensory activity under the lesion, while others have noticed some urological, intestinal and sexual improvements;
Most patients are feeling more secure and have greater self-esteem as a result of gaining awareness of and strengthening their motor abilities, so much so that they can resume an acceptable working and social activity;
All patients have no longer suffered hypokinetic pathologies and the most frequent complications;
From a psychological point of view, those patients who were de-motivated and depressed have all regained trust in their physical and psychological possibilities by socializing with other patients and appreciating the results achieved; all these patients, stimulated by the R.I.C., have resumed their social and working life outside of the family environment and medical institutions with a marked improvement in the quality of life.
OTHER INFO